Hans Walser, [20201106]
Star
<![if !supportLists]>1

<![endif]>
Construction of the star
We dissect a cube from the center into six pyramids (Fig. 1).
<![if !vml]>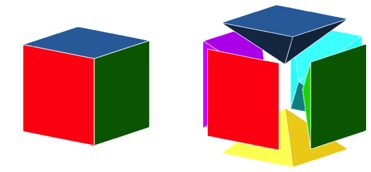 <![endif]>
Fig. 1: Dissection of the cube
In the movie 1, the six pyramids are moved both outwards and inwards. When moving inwards, the pyramids intersect each other.
Movie 1: Moving the pyramids
Figure 2 shows a special case of the intersection of the six pyramids. The pyramids are shifted inward by a quarter of the length of the cube edge. We see a star-like structure.
<![if !vml]>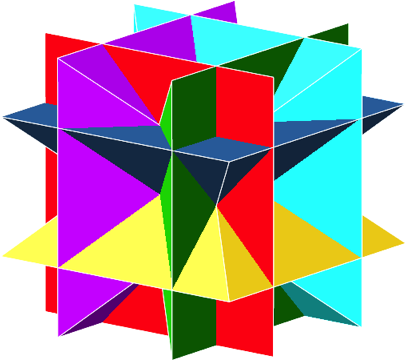 <![endif]>
Fig. 2: The star
Movie 2: The star
<![if !supportLists]>2

<![endif]>
Special views
Special views in relation to the original cube
<![if !supportLists]>2.1

<![endif]>
View on face
<![if !vml]>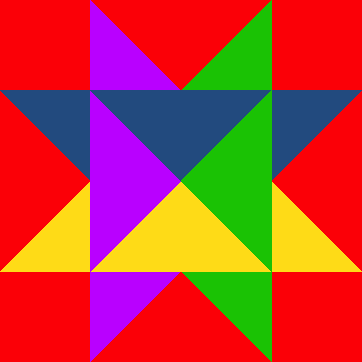 <![endif]>
Fig. 3.1
<![if !vml]>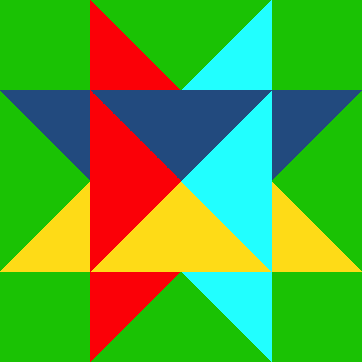 <![endif]>
Fig. 3.2
<![if !vml]>
<![endif]>
Fig. 3.3
<![if !vml]>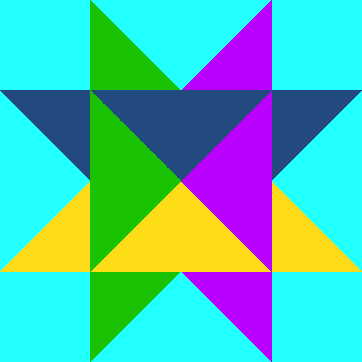 <![endif]>
Fig. 3.4
<![if !vml]>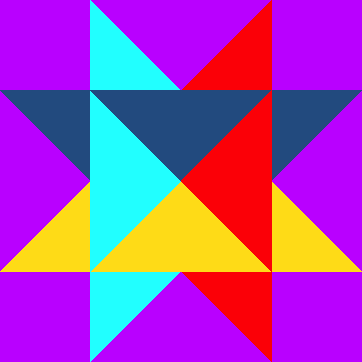 <![endif]>
Fig. 3.5
<![if !vml]>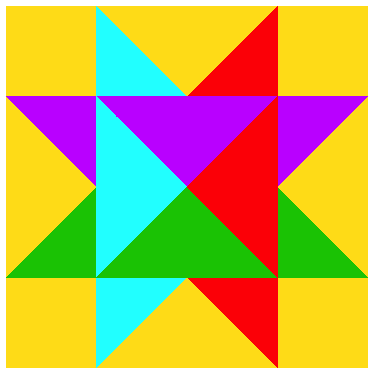 <![endif]>
Fig. 3.6
<![if !vml]>
<![endif]>
Fig. 3.7: Summary
<![if !supportLists]>2.2

<![endif]>
View on an edge
<![if !vml]>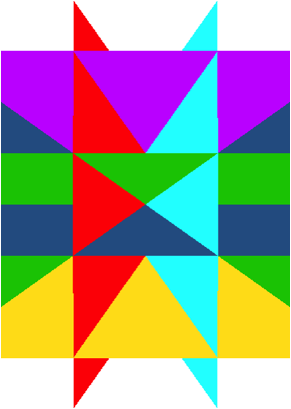 <![endif]>
Fig. 4.1
<![if !vml]>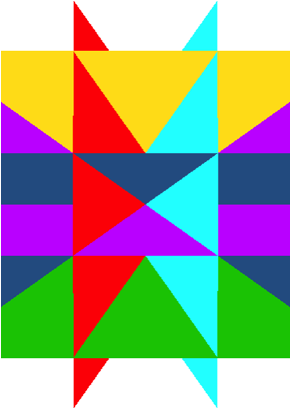 <![endif]>
Fig. 4.2
<![if !vml]>
<![endif]>
Fig. 4.3
<![if !vml]>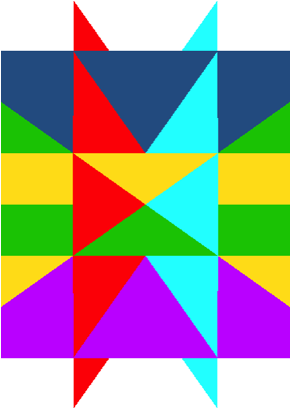 <![endif]>
Fig. 4.4
<![if !vml]>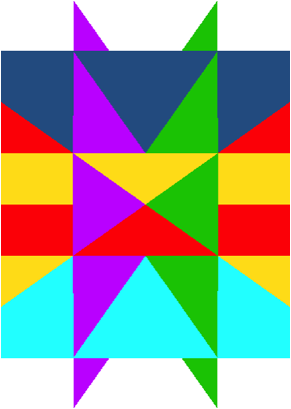 <![endif]>
Fig. 4.5
<![if !vml]>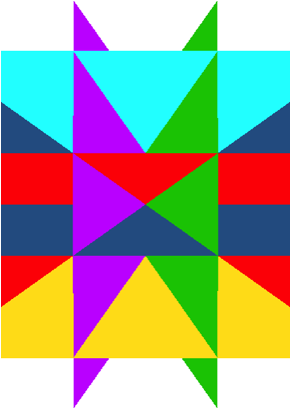 <![endif]>
Fig.4.6
<![if !vml]>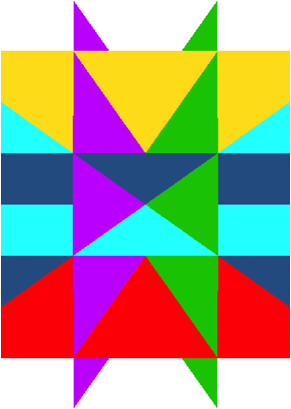 <![endif]>
Fig. 4.7
<![if !vml]>
<![endif]>
Fig. 4.8
<![if !vml]>
<![endif]>
Fig. 4.9
<![if !vml]>
<![endif]>
Fig. 4.10
<![if !vml]>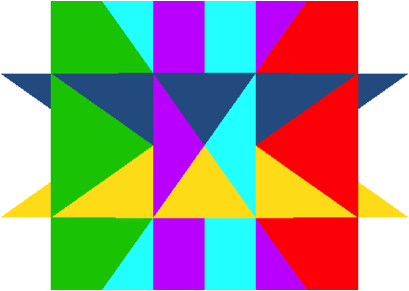 <![endif]>
Fig. 4.11
<![if !vml]>
<![endif]>
Fig. 4.12
<![if !vml]>
<![endif]>
Fig. 4.13: Summary
<![if !supportLists]>2.3

<![endif]>
View on a vertex
<![if !vml]>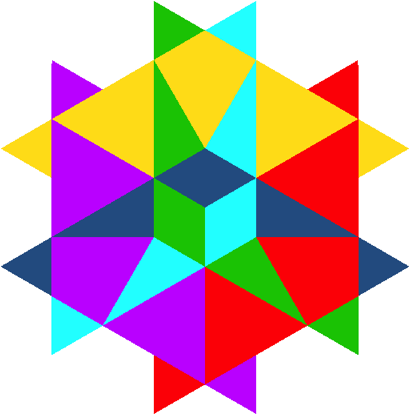 <![endif]>
Fig. 5.1
<![if !vml]>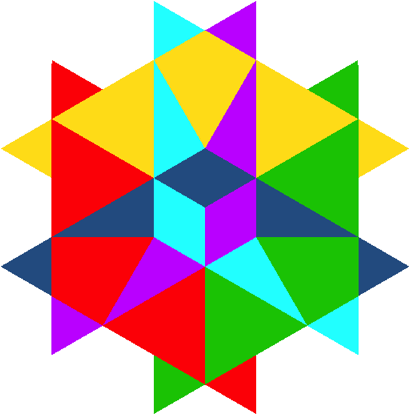 <![endif]>
Fig. 5.2
<![if !vml]>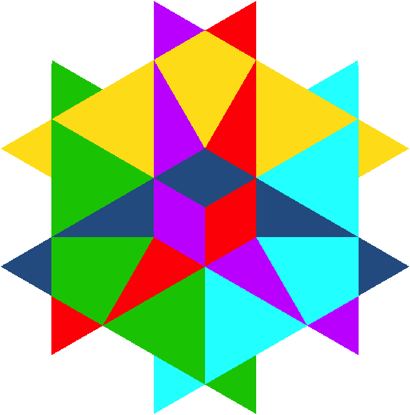 <![endif]>
Fig. 5.3
<![if !vml]>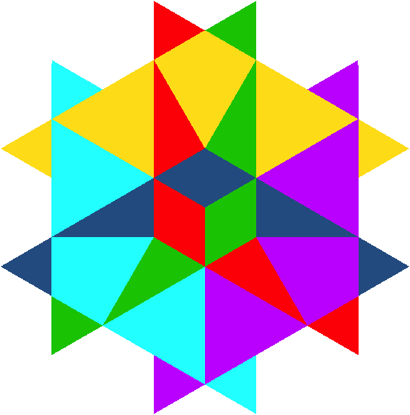 <![endif]>
Fig. 5.4
<![if !vml]>
<![endif]>
Fig. 5.5
<![if !vml]>
<![endif]>
Fig. 5.6
<![if !vml]>
<![endif]>
Fig. 5.7
<![if !vml]>
<![endif]>
Fig. 5.8
<![if !vml]>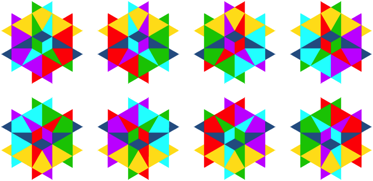 <![endif]>
Fig. 5.9: Summary
Weblinks
Hans Walser: Cube made from six pyramids
http://www.walser-h-m.ch/hans/Miniaturen/C/Cube_pyramids/Cube_pyramids.htm